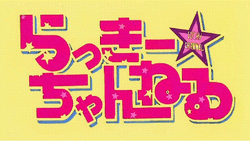 Lucky Channel is a additional small show segment at the end of every Lucky Star episode. The segment is co-hosted by Akira Kogami and her assistant Minoru Shiraishi. The humor of this segment takes on a decidedly darker, mean-spirited, more cynical and mature tone than the main show, disguised as an infomercial that skims over characters who appear in the anime, but mainly deals with the progressively abusive and violent work-relationship between Akira and Minoru.

List of Characters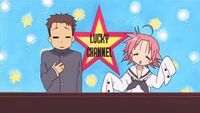 These are a list of characters from Lucky Channel. Most of the characters that appear on the segment are based off real Japanese stars. The hosts are, Minoru Shiraishi and Akira Kogami, most often Minoru and Akira are in the middle of a nasty fight or argument about something Minoru did wrong only because Akira wants Minoru off the show and for it to end. Eventually Minoru leaves for a while and is replaced with Daisuke Ono. Other guest characters included on the show are Gotouza and Meito Anizawa.
Episode List
| Episode | Description |
| --- | --- |
| 1 | Akira Kogami and Minoru Shiraishi are introduced, with Akira questioning her cheap pay, even though she is an idol. |
| 2 | Akira is upset since Minoru gets to appear in the actual show, she then helps him practice his lines right there on the set. |
| 3 | Minoru introduces Miyuki Takara. After a short list of Miyuki's good attributes, Akira gets a jealous of her attractiveness. |
| 4 | Akira thanks viewers for their interest in "Project Fashionable Akira" and then complains about men's interest in long haired girls. |
| 5 | Akira shares her insights on online games. |
| 6 | Akira threatens Minoru and shows her (censored) middle finger to the viewers. Konata Izumi is re-introduced here. Akira later complains about the fans who come to her concerts and grumbles about the life of an idol. |
| 7 | Minoru follows up on a fan's request for a certain hairstyle. Akira is sulky right from the start and continues in her bad mood, until near the end of the section. |
| 8 | Akira jeers at Minoru for being just an assistant, thus unable to gather as many fans as her; she is rudely awakened when she realizes that this time around, he was the only one of the two who has fan mail. Akira represents the team in inviting viewers to vote for the character they want to be made into a live figure. |
| 9 | Minoru re-introduces Tsukasa Hiiragi, whom Akira compared to Kamigishi Akari. When Minoru admits that Tsukasa has some idol qualities, Akira hits him in the head with an ashtray. She then goes on to teach Minoru how to have his pictures taken like a true idol. |
| 10 | Akira re-introduces Kagami Hiiragi and thinks of her as a tsundere. Minoru strongly disagrees and explains the original definition of tsundere. Akira asks Minoru for a better term to describe Kagami. Unable to come up with one, Minoru wants the home viewers to do that instead, leading him into a long and enthusiastic speech that, at the end of the shoot, he is very proud of(because it's the most he's ever spoken). |
| 11 | Akira announces that she will appear in the next episode of Lucky Star. |
| 12 | Minoru is the one doing the intro. Akira is still present, but she is wearing a mask over her mouth. Minoru explains that Akira suddenly fell ill and therefore could not appear in episode twelve of Lucky Star. |
| 13 | Akira appears with the twin drills she had mentioned in episode seven. Also, Minoru has the voting results for the figurine project mentioned in episode 8, and he wants Akira to announce them. She reluctantly agrees and finds out that there will be figurines of Konata Izumi and (much to Akira's disgust) Minoru Shiraishi. |
| 14 | Akira complains about recording only one line for the show, and she wasn't even shown. She tries to get the audience to help her get a bigger part. Minoru is told by the producer to stop Akira because time is almost up, but Akira ends up yelling at Minoru. |
| 15 | Akira manages to scare Minoru by telling him that this was his final appearance before revealing that it was nothing more than an April Fool's joke. Akira then begins complaining as to how Minoru appeared as the MC at Suzumiya Haruhi no Gekisō in the actual episode, and how she has not had a concert of her own for a while, before discovering through Minoru that the producer has actually booked a concert for her next week. Akira is ecstatic at this news. |
| 16 | It turns out that the concert talked about in the previous episode turns out be nothing more than a karaoke performance. Akira is quite angered at this, but still sings regardless. The show ends before Akira can finish her song. |
| 17 | Meito Anizawa appears as a guest and proceeds to take control of the show with his overly-dramatic complaints about how nobody values the hard work taken to produce anime. |
| 18 | The six remaining Lucky Star girls are all introduced. Akira is appalled that with all these new girls making debuts, she hasn't managed to make an appearance in the show yet, and continues to complain as Shiraishi squeezes in a text message to his mom. |
| 19 | Just to get rid of him, Akira sends Shirashi on a wilderness trip to Mt. Fuji to obtain some water coming from a stream there for her. |
| 20 | Minoru has been replaced as Akira's assistant by Daisuke Ono, and some references are made to both voice actors' appearances in Air — Ono as the crow, Sora, and Akira (Hiromi Konno) as the dog, Potato. They turn to live footage of Fuji Forest in order to check up on how Shiraishi is doing... but he is nowhere to be seen. |
| 21 | Minoru returns with water from Mt. Fuji. Akira drinks the water, but spits it out and throws the bottle at him, because she hates how the water is warm. Minoru finally loses it, ranting about how tough his life is on the show, and ruins the studio with his anger. |
| 22 | The camera rolls in front of an empty, still destroyed studio. The producer is rambling on about how he fired all three members of the Lucky Channel staff, and how he originally did not want the job, but took it anyway, as a source of power and popularity. In the meantime, the director is trying to tell the producer that the camera is rolling as he is saying this, and at the end of the producer's rant, he finally figures out what the director was trying to tell him. |
| 23 | In the ruins of the set, Yūko Gotō convinces Minoru and Akira to work together again, before riding off on her motorcycle. |
| Episode | Description |
| --- | --- |
| OVA | There is a live-action segment featuring the two seiyūs for both characters. |
Trivia
The literal translation of the title, "Rakki Chaneru", technically reads "Lucky Channel" correctly, although it should use the katakana character set, rather than hiragana, since it is an English translation.
Community content is available under
CC-BY-SA
unless otherwise noted.