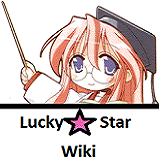 Welcome to the Lucky ☆ Star Wiki!
A Lucky Star database that anyone can edit!
So far we have 430 articles! Contribute to make this wiki better!
About Lucky Star
Lucky Star began as a manga by Kagami Yoshimizu. The series centers on four main characters that are in their first year of high school: Konata Izumi, Kagami Hiiragi, Tsukasa Hiiragi, and Miyuki Takara.

Konata is an intelligent, athletic girl but she's a lazy student, mostly because of her obsession with manga and anime and her otaku lifestyle. This is an unconventional, slice-of-life show based on a 4-panel comic strip manga that depicts the daily life of easygoing Japanese high school girls in a very amusing way.
Featured Image of the Month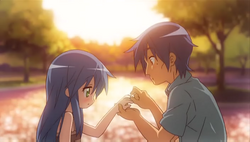 Sojiro proposing to Kanata.


Sojiro proposing to Kanata, is a flashback seen in the episode The Yonder Here. The image shows Sojiro proposing to the young Kanata in the park during the sunset. Though her life was cut short, the image shows how important Kanata was to Sojiro, despite his perverted attitude.
Random Quote of the Month
"May the ones who brought me so much joy be blessed with happiness."
~Kanata Izumi to Sojiro and Konata in The Yonder Here
We Need Your Help!
Despite how popular Lucky Star is, many pages here don't get that much attention. We can't do this alone, we need everybody's help to make this wiki shine bright.

How Can You Help?